Moreton Bay Sailing Club
Junior Sailing
October 1, 2015 – 03:25 pm
The MBBC is an accredited Discover Sailing centre and affiliated with Yachting Queensland. We run two course here at the Club: Tackers and Learn to Sail.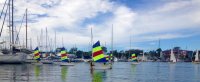 Tackers
Tackers is an introductory, fun, games based sailing program designed by Yachting Australia for kids aged 7 – 12. Kids interested in doing the Tackers Program don't require any previous sailing experience. Tackers is taught in purposely built and designed Ozi Optis, which only have one sail and made of plastic which makes them a great boat for young children.
There are 3 courses in the Tackers Program:
Tackers 1: Having Fun
Tackers 2: Tricks and Techniques
Tackers 3: Sailing Fast
Costs
$300 per term of sailing which covers Tackers sailing kit ( shirt, drink bottle, Tacker certificates, sailing gloves etc.), Junior Club membership, Club sporting fee which covers insurance and administration, Yachting Queensland registration and all lesson fees.
Session Times
Saturday 1:00pm – 3.30pm
Sunday 9.30am – 12.00pm
Sunday 12.30pm – 3:00pm
(Please note that all sessions are run during the school term).
Learn to Sail
Learn to Sail sessions are run each Sunday, these are 2 hour sessions which run for 9 weeks in line with the school semester. These courses are taught in 3.7m Vagabond dinghies with both a jib and a main sail, dinghies are ideal for juniors and youth to learn the basics of sailing and racing, however are equally suitable for adults
There are 3 courses in the Learn to Sail Program:
Learn to Sail 1
Learn to Sail 2
Better Sailing
All levels are taught in Yachting Queensland certified vagabond dinghies. These courses are ideal for children aged 13 – 17.
$20 per 2 hour session
$15 Yachting Australia registration per term after the first term of sailing
Yearly Fees: $10 Junior Club membership, $30 Club Sporting fee which covers insurance and administration
One off Fees: $55 Yachting Queensland registration, sailing log book and a Yachting Australia sailing series text book.
Sessions Times
Sunday 9.30am – 11:00am
Sunday 12:00pm – 2:00pm
School Holiday Programs/Schools/Private Lessons/ Adult Learn to Sail Courses
We run school holiday programs throughout each school holiday, these are 5 day programs 9am – 1pm each day and teach the fundamentals of sailing.
We are also able to run school sailing sessions either as part of your school curriculum or as an after school activity and we also provide private lessons.
Adult learn to Sail courses are very popular, this is a 5 week program and taught in vagabond dinghies, however in the final lesson we provide you the opportunity to participate in the Clubs social racing on yachts ( keel boats, trailer sailors etc.)
Requirements
No previous sailing experience is required as we teach all aspects of sailing. Our Junior Sailing sessions are aimed at kids 7+ and require a basic level of swimming. We provide all equipment, boats, life jackets etc.
You might also like: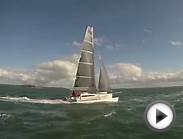 Sailing Royal Queensland Yacht Club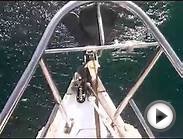 Sailing Moreton Bay K3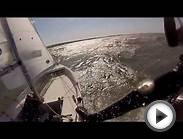 125 Sailing on Moreton Bay
Famous fishing jetties and Venice yacht club Venice, Florida Original Vintage Postcard


Entertainment Memorabilia (H. S. Crocker Co)




Categories: US State & Town Views,Florida,Venice
Type: Chrome
Size: 3.5 x 5.5 (9 x 14 cm)
Publisher: H. S. Crocker Co
Related posts: