Oyster Point Yacht Club
Beer Can Races
September 22, 2015 – 07:58 am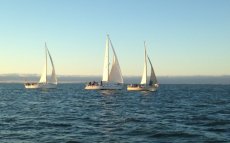 Every Wednesday Night
April 22nd through October 8th, 2015
Winter Beer Cans are on the following Sundays:March 22, 2015
Open to the public, "Beer Can Races" are informal races utilizing a Rabbit start, i.e. no race committee. Both new and seasoned sailors are asked to wear appropriate clothing: non-marking deck shoes (non-slip), life jackets and clothing which can get wet. The race course is around the local racing marks outside of the Marina.
Winter Beer Cans:
Meet in the Regatta Room at 12:30 PM to sign up as crew. We leave the docks at approximately 1:00 PM and are typically finished by 4:00 PM. After the race come on back to the club to enjoy a refreshing beverage, some snacks and re-live the action!!
The January 25 race will start at Oyster Point Yacht Club. Skippers meeting at noon at Oyster Point.
Spring/Summer/Fall Beer Cans:
Meet in the Regatta Room at 5:30 PM to sign up as crew, sign up for your dinner choice, and then go out and have fun! We leave the docks at approximately 6:00 PM and are typically finished by 8:00 PM. Our fabulous group of volunteers prepares dinner while we are out on the water, so as soon as the boats are put away, it's time to grab a drink, tuck into some dinner and socialize with the sailors!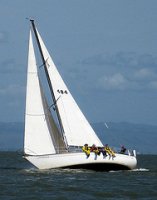 Beer Can Racing is a great way to get exposed to sailing on the Bay. It's an opportunity to meet the local skippers and get a taste of what sailboat racing is all about. For those who become more serious about the sport, arrange to crew on a boat during the monthly CPYC regattas which are typically held the first Saturday of the month, or you can always buy your own boat and join us!
Etiquette: When you sign up to crew on someone else's boat, always be honest and realistic about your experience level. This helps us to best match up skippers with crew. An after-race "thank you gift" (i.e. – a beer up at the bar!) for the skipper that took you out on the water is always appreciated.
Guests are expected to bring: Non-marking boat shoes, PFDs (i.e. – life jackets), sailing gloves and warm clothes including a water-proof outer layer. Chances are your skipper will have extra PFDs, but if you want one that's more comfortable that the puffy orange rectangles, you may want to invest in your own.
Modern Fantasy Alloy Environmental Tree Engraved Brown Adjustable Length Leather Bracelet


Jewelry (Modern Fantasy)




Dispatched and sent out in a delicate blue lucky pocket
High quality with fun design
Jewery fits your lifestyle
Multi-strand woven around the leather
About 2.16 Inches And 3.94 Inches in Diameter
You might also like: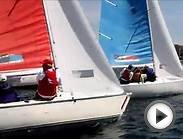 2012 - 14th Annual Jackson Cup Hosted by Boston Yacht Club ...
Related posts: