Hances Point Yacht Club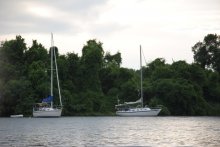 19.1 miles, 3hours 40 minutes
A great grand finale! 10-12 knot winds out the WNW set us on a single tack from the mouth of the Sassafras to Hances Point. Close reaching almost all the way to Red Point at 6 knots, then the wind began clocking around more till it was on our nose as we passed Red 10. Irish Dream led the parade home, followed by Brazen Article, Slainte' and Sugaree
39.5 miles, 6 hours 45 minutes
Bodkin Creek to the Sassafras in one long tack, winds 10-15 starting out. Brazen Article stopped to put in a reef at 7 Foot Knoll only to shake it out half an hour later as the whitecaps subsided. The wind stayed steady out of the NNW. The planned destination for the day - Still Pond - was passed well before noon.
Irish Dream and Tom Finger joined us behind Ordinary Point for a pretty and lazy afternoon and a potluck dinner salad of all the remaining produce from St Michaels, an excellent meal.
35 miles, 8 hours
Anchors up at 6:45 am, we motored down the Wye, calling Julie and Ike as we passed Shaw Bay under motor. Sails went up as we rounded toward the Miles River and made our way past the flats off Bennett Point and headed toward Prospect Bay and Kent Narrows. It was a slow sail but pleasant, no need to rush the day with such an early start. All caught the 10:30 opening at the narrows, motoring mightily against the tidal sluice under the bridge.
Our loose plan was Swan Creek for the night but the wind died as we saw Love Point.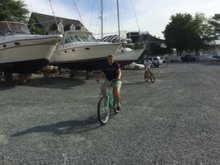 Again plans changed - we met Pegasus with Jeff Wettig and Nora heading north from Annapolis and all decided to meet in Bodkin Creek off the Patapsco.
Once anchored we waited out a brief rainstorm that Jeff saw coming on the iphone radar, then linked up the creek for dinner and a visit at Bodkin Yacht Club. There was barely room to get four dinghies close to shore with all the large motor yachts gathered for the Bodkin Club opening night, once ashore we enjoyed a burger dinner, hot shower and Rick ran into friends from the Red Eye Yacht Club.
All hands returned to the boats as darkness grew and ended up keeping an eye on the weather apps and anchors as all hell broke loose in the form of rain, thunder, lightning and wind. Safe to say we all found a few new cabin leaks
13.5 miles, 5 hours
The Wye is a short sail back down the Miles River, once into the Wye it was time for several hours or poking around the various creeks.
Julie and Ike dropped the hook early in Shaw Bay. Brazen Article poked around up and into Granary Creek and Dividing Creek. After meeting up with Sugaree and conferring on close shores and the possibility of many mosquitos Rick mentioned a cove just south of the creeks that looked like a good anchorage for the night.
We had 12 feet of water with the shore only 40 feet away and no other boats in sight - perfect for the storms that rolled through with heavy rain after dark.
Jinfen Womens Slip on Antiskid Breathable Running Walking Casual Corduroy Shoes EU36 Red


Shoes ()




Vogue,concise,beautiful in accordance with undertone and contracted style.
A round,extra-wide toe box provides plenty of room.
Comfortable and easy slip on and off.
Corduroy upper for comfort and style.
Made in china.High quality, 15 days 100% return guarantee.
You might also like: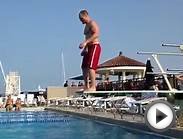 At the grosse pointe yacht club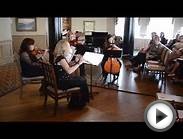 DSO Quartet at Grosse Pointe Yacht Club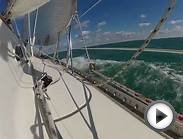 Grosse Pointe Yacht Club Bluenose Regatta on Marksman ...
Related posts: