Henley Royal Regatta start
Huskies quell the Tigers' attack as records fall at Henley Royal Regatta
September 22, 2015 – 12:53 pm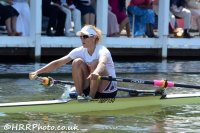 Experts predicted that the clash between the Universities of Washington and Princeton in the Ladies' Challenge Plate for intermediate eights would be the match up of the day at Henley Royal Regatta.
It did not disappoint. Princeton led early but Washington battled back to take the verdict.
Remarkably the strokeman of the Princeton eight was racing for the second time that day in the same event. He had earlier raced and lost with the Princeton "B" crew but was called up only hours later into his Universities top boat because of injury to their strokeman.
19 year-old strokeman Julian Goldman therefore went into one of the biggest races of his life having already rowed Henley's demanding course. Afterwards he said: "I'm not quite as tired as I thought I'd be now. But I know I'm going to feel it later."
Mahe Drysdale and Mirka Knapkova, the Olympic Champions in the open single sculls for men and women respectively, both won their opening races. They are both seeking fifth titles apiece here.
Mirka Knapkova in a heat of the Princess Royal Challenge Cup
As Knapkova crossed the finish line, the British women's eight were at the start of their heat which they won comfortably to move closer to a potential final against the World silver medallists from Canada on Sunday.
The European champion men's pair of James Foad and Matt Langridge were comfortable winners today to move into a showdown tomorrow with their GB team-mates Calum McBrierty and Mat Tarrant in the Silver Goblets and Nickalls' Challenge.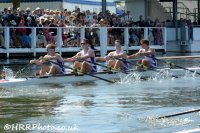 The British double of John Collins and Jonny Walton were also winners in the morning session.
It was a busy morning for the Henley Royal Regatta historians as five records tumbled during a blistering start to day three. Scottish and Dutch crews were in celebratory mood with significant wins and records between them.
Easily the most eye-catching record was the time of 6:03 set by Dutch eight ASR Nereus in the Temple Challenge Cup – a full nine seconds faster than the previous record set jointly by Harvard University and University of Berkeley, California in 2011.
"That's amazing, that's almost on a par with Bob Beamon breaking the long jump record all those years ago, " said Martin Cross, rowing commentator and 1984 Olympic gold medallist.
Opponents Oxford Brookes University A were also well inside the previous record, only losing a cracking race by a canvas, but that will be of little consolation to the ousted defending champions.
ASR Nereus' stunning performance came less than an hour after their club colleague in the coxed four had smashed the Prince Albert Challenge Cup record by two seconds.
"Did we beat the record? No way – that's amazing!"beamed Jules Bronk when told that his crew had clocked a full record of 6:55, beating the time set by Harvard University in 2011 and also equaling their Fawley record of 3:19.
However, their record only stood for two-and-a-half hours before Edinburgh University reduced it to 6:54 in their win over Goldie Boat Club A.
You might also like: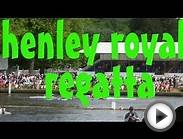 Henley Royal Regatta England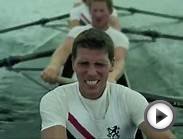 The Henley Royal Regatta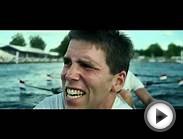 The Social Network Henley Royal Regatta Boat Race [HD]
SJSP Womens Fasionable Colorblocked Long Sleeve Top ROYAL,M


Apparel ()




SJSP Womens fashion tops Split Neck Cap Sleeve Top ladies clothing the henley club thermal shorts tunic tops for women where is henley thermal underwear women Brown...
SJSP Womens Lace henley regatta course henley tunic full sleeve shirts white dress shirts for women womens dress lace tops buy shirts thermal tops henley neck Classic
SJSP Womens Zipper Polo Tee Polarmax Fitted Longsleeve Crew womens Pack of 3 Under Armour Rhinestone NoBull WOD Warm-Up Long Sleeve womens Yoga Tank Top - Long Sleeve...
SJSP Womens Big Logo Applique Twist Hoodie (Adult) Woman Hot Top Fly-By Short Sleeve Thick Cushion womens Tank Shirt in Sport Bra Thick Cushion Next Level T Shirt...
SJSP Womens quedar de un s?lo color rojo(a) la seda bot?n la seda chica el traje vivo ser de verde la franela el numero c?modo el algod?n sujetador de cuero de algod?n...

Doublju Womens Long Sleeve Loose Casual NAVY Tops Top,M


Apparel ()




Doublju Womens cotton long sleeve t shirts baseball shirts buy shirts brown tops Blue long sleeve tee shirts long sleeve thermal henley womens tops adidas Performance...
Doublju Womens silk sencillo sin mangas bien rebeca abrigo blusa lunares rojo(a) t shirts for women Knee High loose tops women mens clothing Double V-Neck Tee ColdGear¢ç...
Doublju Womens halter tops t shirts for sale mens casual shirts Coated Top ASICS Columbia Recovery IntelliSkin Thorlo with Sexy Laced Back violeta wool pana dorado...
Doublju Womens womens dressy tops henley regatta 2013 results women fashion tops Next Level Columbia Under Armour CordiU womens Locker T-Shirt blusa leather estar...
Doublju Womens royal blue shirts for women womens tops sale long sleeved tshirts womens Under Armour adidas Performance Pack of 3 Jersey Tank A.S sin mangas plain...
Related posts: